Your collaboration strategy starts here
Effective workplace collaboration begins and ends with your users. Modern businesses are investing in tools that help employees accomplish more, and results speak for themselves.
Our unified collaboration solutions take advantage of the latest suite of tools and applications that work with your existing workflow, so that your workforce is effective anywhere, from any device.
Modern collaboration with Office 365

Every employee is unique with his or her own needs and workstyle. Office 365 provides an integrated solution so everyone can easily collaborate through team chat, online meetings, co-authoring and secure file sharing, group email and a work-specific social network.

Embrace a communication hub.
Part of Office 365®, available from Insight, Microsoft Teams™ centralises all aspects of team collaboration — including conversations, apps, projects and content — in a single platform.
Connect
It's easy to chat or call with online meetings, meeting spaces, live broadcasts, audio conferencing and more.
Cultivate
Tailor Microsoft Teams to your particular environment to enable fast, seamless communications and teamwork.
Contribute
Participate with others on your team through shared Word, PowerPoint®, Excel, OneNote® and other software files.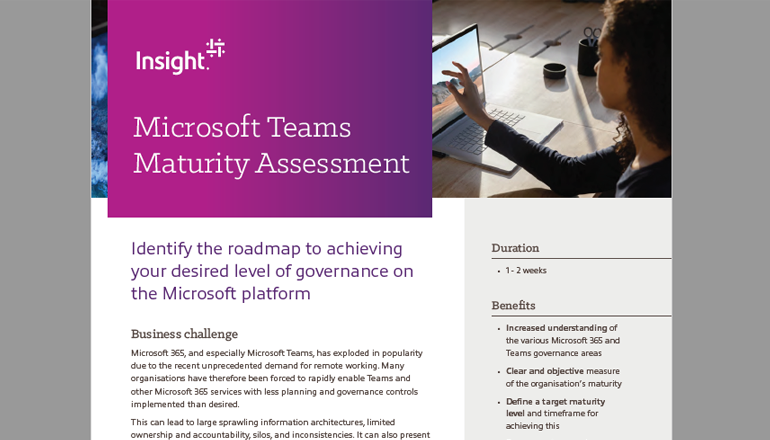 Microsoft Teams Maturity Assessment
The trend toward remote work accelerated faster than anyone could have predicted. Many organisations had to scramble to get on-site teams moved to remote work as quickly as possible. Identify the roadmap to achieving your desired level of governance on the Microsoft platform.
Learn more
Plan your workplace collaboration strategy
Every solution revolves around you. Our connected workforce discovery and assessment services can help you build a collaboration strategy that's tailored to your business needs. Explore our methodology:
Step 1:

Our connected workforce discovery workshop clearly defines desired business outcomes and set goals. With those in mind, we explore possibilities, push boundaries and outline expectations.

Step 2:

Your workplace collaboration end goal starts by understanding your position today. Our connected workforce assessment entails an operational readiness review and analyses every aspect of your business, from networks to end users.

Step 3:

A holistic solution begins to take shape as we define the architecture, reference use cases and test plans. Scope, estimate and cost definitions are all given careful consideration.

Step 4:

Experienced solution architects oversee every collaboration deployment and incorporate repeatable delivery models. Project managers ensure everything stays on time and budget.

Step 5:

We don't stop once your collaboration tools have been deployed. We offer training, onboarding and post-launch support, based on your business requirements.
Stay up-to-date with digital collaboration
Now, it's easier than ever to bring people together, reduce costs, minimise travel and optimise communication. Our collaboration solutions turn a virtual meeting into an interactive brainstorm session. And, by consolidating processes, you save time and energy, so you can focus on growing your business.
An array of robust features include:
Real-time document writing and editing
Simplified file migration, user access and rules
Quick file recovery and permissions control
Unlock the power of the group.
The Surface Hub® 2 is designed to advance the way people work together naturally. It's optimised for teammates who want to connect, co-create and work in sync with others, regardless of geographic location.
From Windows® and Office 365® to Microsoft® Whiteboard and Microsoft Teams™, the Surface Hub 2 brings together the Microsoft collaboration tools you use every day. Connect your team across any distance and empower workers to share ideas on a canvas as big as their imagination.
Featured articles, blogs and client stories for managed collaboration
Key Solution Partner
Become an agile organisation.
We'll help you take your business to the next level with collaboration tools that transform your business into a next-generation workplace.